2020 STRAWBERRY FESTIVAL CANCELED

In light of the continuing spread of COVID-19, the coronavirus disease, and ongoing control efforts by state and federal authorities that have created an uncertain environment for large public gatherings likely for the rest of 2020, the Happy Valley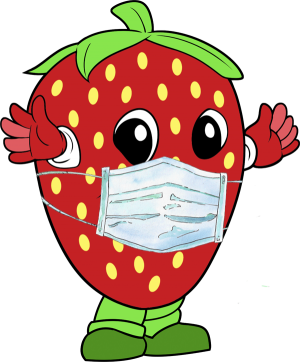 Community Foundation has decided to cancel the annual Happy Valley Strawberry Festival for the first time since World War II.

We'll see you in May 2021 for our 80th event, but In the meantime we ask that you stay safe by practicing social distancing, wearing a mask and following the direction of the state and federal authorities who are working to minimize the duration and severity of this pandemic in the US. Working together to stop the spread, we can all get back together as a community sooner.

80th HAPPY VALLEY STRAWBERRY FESTIVAL
May 29th & 30th, 2021

Sat 9AM-5PM, Sun 10AM-4PM

Come and enjoy a Fun and Entertaining Day! Our Famous Generous Servings of Sweet Fresh Strawberries, Ice Cream & Shortcake are only $8.
FREE ADMISSION & FREE PARKING
JOIN US AT WEST VALLEY HIGH SCHOOL. Located at the Corner of Happy Valley Road & Gas Point Road
This year's festival is packed with things to see and do:
Arts & Crafts Booths


Pie-Eating Contests - including the local celebrity rematch!


Delicious Food & Refreshing Drinks
* Strawberry shortcake *Fried Shrimp *Chicken Strips *Strawberry Kettle Corn
* French Fries * Hamburger/Cheeseburger *Cheese on a Stick *Churros

* Hot Dogs * Tri Tip Sandwiches *Fried Zucchini *Polish Dogs *Nachos
*Street Tacos * Caesar Wraps *Kettle Corn *Homemade Tamales
* Pulled Pork Sandwiches *Strawberry Lemonade *Snowcones *Sweet Tea

Continuous Entertainment across 3 Stages
Petting Zoo with baby animals


Haven Humane pet adoptions

Pony Rides

Magician

Antique Tractor Displays

4-H Swine Club Pancake Breakfast at 7am

Roving entertainment
Strawberries are served from 10AM to 5PM Sat and 10AM-4PM Sun, while they last.
Purchase advance Strawberry Shortcake tickets at Country Market, Happy Valley Market & Happy Stop Market.