STRAWBERRY FESTIVAL VENDOR INFORMATION
Happy Valley Strawberry Festival is a wonderful place to show off and sell your handcrafted goods or serve up something special to the hungry masses. Our rates are reasonable, and the turnout is historically excellent for this event. Here are some details about the space and costs for vendors: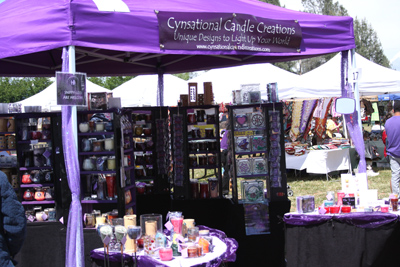 Booth Size: 12' x 12'
(Space ONLY, no Electricity or Tables Provided)
Craft Vendor Fee: $70 before May 1st, $90 if postmarked after May 1st (either day). $110 for both days before May 1st or $130 for both days postmarked after May 1st.
NOTE: Handcrafted or Antique items are allowed without approval. However, if you have a commercial item you'd like to sell, please contact Marlene Carmichael at the Board so she can see if it can be approved.

Food Vendor: $200 for one day or $300 for both days before May 1st, $250 for one day or $350 for both days if postmarked after May 1st.
NOTE: ALL Water and Fountain Drinks are only to be sold by the Happy Valley Foundation! Booths must be self-contained as no electricity is provided.
Please click the 2018 Vendor Sign Up Form link below to download the application form. It is in PDF format and requires Adobe Acrobat to open it. Print and complete the form, then mail it in with your payment. Upon receipt and approval, a vendor packet with instructions about setting up your booth and complete festival rules will be mailed back to you.
DO NOT PROCEED TO GETTING YOUR HEALTH PERMIT UNTIL YOU ARE APPROVED AS A VENDOR AND RECEIVE THIS PACKET. WE WILL NOT BE RESPONSIBLE FOR UNAPPROVED VENDORS WHO DO NOT RECEIVE A VENDOR PACKET. UNAPPROVED VENDORS WILL NOT BE ALLOWED ON THE FESTIVAL GROUNDS.

(FREE Adobe Acrobat reader must be installed to view form. Click here to download it if you don't have it.)